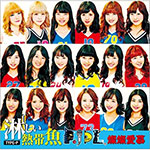 P.IDL's 2nd single Samishii Nettaigyo / Sansan Aibo (淋しい熱帯魚 / 燦燦愛慕) was released on August 6.
It is a double A-side single. There are 4 editions, that is to say one for the members of each team of P.IDL (Performance IDol League).
Check out the music videos.
They are the tie-up songs for the shows Music Dragon (ミュージックドラゴン) Power Play on Nippon Television, Joshista Aikuteki (ジョシスタあいく的) on Sapporo TV, and Music PPTV (Music ピーパーTV) on CBC.
Each CD includes 4 songs and the instrumental versions of the 2 lead songs. The 4th track is different for each team and was recorded at a live performance in April.
Tracklist
Type P

Samishii Nettaigyo (淋しい熱帯魚)
Sansan Aibo (燦燦愛慕)
Wake My Up, Girls!
Believe in Me (Shibuya Public Hall Live Ver.)
Samishii Nettaigyo (Off Vocal)
Sansan Aibo (Off Vocal)
Type I

Samishii Nettaigyo (淋しい熱帯魚)
Sansan Aibo (燦燦愛慕)
Wake My Up, Girls!
Omoide Fallin' Love (想い出Fallin' Love) (Shibuya Public Hall Live Ver.)
Samishii Nettaigyo (Off Vocal)
Sansan Aibo (Off Vocal)
Type D

Samishii Nettaigyo (淋しい熱帯魚)
Sansan Aibo (燦燦愛慕)
Wake My Up, Girls!
Dance! (Shibuya Public Hall Live Ver.)
Samishii Nettaigyo (Off Vocal)
Sansan Aibo (Off Vocal)
Type L

Samishii Nettaigyo (淋しい熱帯魚)
Sansan Aibo (燦燦愛慕)
Wake My Up, Girls!
Shining Star (Shibuya Public Hall Live Ver.)
Samishii Nettaigyo (Off Vocal)
Sansan Aibo (Off Vocal)
Music Video (PV)