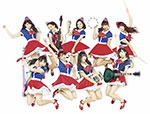 Passpo☆ Music Clips 2013-2014 was released on DVD on March 26.
As its title suggests, this DVD contains the MV and the Dance Shot versions of Passpo☆'s songs released between 2013 and early 2014.
In addition, Passpo☆'s new single Perfect Sky went on sale on the same day.
The idol group will hold 2 live performances on May 3 at Shibuya Public Hall in Tokyo.
Tracklist
Music Video

Sakura Komachi
Step & Go
Candy Room (キャンディー・ルーム)
Truly
Mousou no Hawaii (妄想のハワイ)
Growing Up
Dance Shot ver.

Sakura Komachi (サクラ小町)
Truly
Mousou no Hawaii (妄想のハワイ)
Growing Up
Special

Beast in You (Dance Shot)