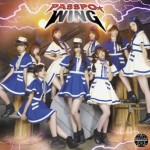 Passpo☆'s 6th single Wing will be released on October 3.
The single was made in collaboration with German Metal.
The limited edition comes with a DVD featuring music video. It also includes a ticket for the live Passpo☆ Wing Fes Vol.3 to be held on October 8 at Zepp Tokyo.
Wing Economy Class Version (Regular Edition)
CD

Wing
Dum Dum Freedom (ダムダムフリーダム)
Wing (Instrumental)
Dum Dum Freedom (ダムダムフリーダム) (Instrumental)
Wing First Class Version (Limited Edition)
CD

Wing
Dum Dum Freedom (ダムダムフリーダム)
Wing (Instrumental)
Dum Dum Freedom (ダムダムフリーダム) (Instrumental)
Music Video (Short ver.)