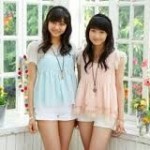 Peaberry will release a new version of their 1st single Cabbage Hakusho ~Haru Hen~ (キャベツ白書~春編~) on February 27.
The limited editions include a bonus DVD featuring music videos and making-of footage.
The first version of the single has been originally released on November 7, 2012.
Peaberry is a special unit consisting of Wada Ayaka (S/mileage) and Sayashi Riho (Morning Musume) from Hello! Project.
Regular Edition
CD

Cabbage Hakusho ~Haru Hen~ (キャベツ白書~春編~)
Niji no Seseragi (虹のせせらぎ)
Cabbage Hakusho ~Haru Hen~ (キャベツ白書~春編~) (Instrumental)
Limited Edition Type A
CD

Cabbage Hakusho ~Haru Hen~ (キャベツ白書~春編~)
Niji no Seseragi (虹のせせらぎ)
Cabbage Hakusho ~Haru Hen~ (キャベツ白書~春編~) (Instrumental)
DVD

Cabbage Hakusho ~Haru Hen~ (キャベツ白書~春編~) (Music Video)
Cabbage Hakusho (キャベツ白書) (Music Video)
Cabbage Hakusho ~Haru Hen~ (キャベツ白書~春編~) (Making of)
Limited Edition Type B
CD

Cabbage Hakusho ~Haru Hen~ (キャベツ白書~春編~)
Niji no Seseragi (虹のせせらぎ)
Cabbage Hakusho ~Haru Hen~ (キャベツ白書~春編~) (Instrumental)
DVD

Cabbage Hakusho ~Haru Hen~ (キャベツ白書~春編~) (Music Video Other Version)
Cabbage Hakusho (キャベツ白書) (Music Video)
Cabbage Hakusho ~Haru Hen~ (キャベツ白書~春編~) (Making of)
Limited Edition Type C
CD

Cabbage Hakusho ~Haru Hen~ (キャベツ白書~春編~)
Niji no Seseragi (虹のせせらぎ)
Cabbage Hakusho ~Haru Hen~ (キャベツ白書~春編~) (Instrumental)
Peaberry – Cabbage Hakusho ~Haru Hen~ (MV)