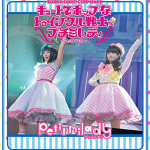 Petit Milady 1st Concert 2014 ~Cute de Pop na Twinkle Senshi Petit Milady~ (キュートでポップなトゥインクル戦士☆プチミレディ) will be released on Blu-ray on August 13.
The live was held on May 11 at Tokyo Dome City Hall.
It celebrated the 1st anniversary of Petit Milady.
The duo consisting of Yuki Aoi and Taketatsu Ayana performed 10 songs durng their 1st live.
Voice actors Hayami Sho and Igarashi Rei participated as special guest guests.
6000 fans attended the event.
Furthermore, Petit Milady's 3rd single Koi wa Milk Tea (恋はみるくてぃ) will be on sale on the same day.
Setlist
Opening
Hajimarism (ハジマリズム)
MC1
Kasanariaru (カサナリアル)
MC2
100% Cider Girl (100%サイダーガール)
MC3
azurite
Kagami no Dualism (鏡のデュアル・イズム)
Ma Chérie
MC4
Radio Whip (Radioホイップ)
MC5
Suki Kirai Kirai Daisuki (スキ キライ キライ 大スキ♡)
MC6