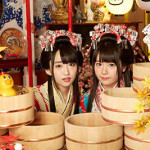 Petit Milady's 5th single Hakone Hakoiri Musume (ハコネハコイリムスメ) will be on sale on October 21.
This is the opening theme song for the anime Onsen Yosei Hakone-chan (温泉幼精ハコネちゃん) which will start airing in October in Japan.
The audio short version has been unveiled.
The lyrics were written by Nakamura Kanata. The music was composed by Shunryu who made hit songs such as AKB48's Iiwake Maybe, SKE48's Gomen ne, Summer… It was arranged by Yoru.
Onsen Yosei Hakone-chan is an anime series based upon the manga by Yui Daisuke.
Furthermore, Petit Milady 2nd Live will be held on December 6 at Ariake Coliseum, Tokyo.
Tracklist
CD

Hakone Hakoiri Musume (ハコネハコイリムスメ)
??
DVD

Hakone Hakoiri Musume (Music Video)