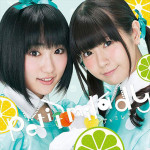 Petit Milady's new single Kagami no Dualism / 100% Cider Girl (鏡のデュアル・イズム / 100%サイダーガール) will be released on May 15.
This is the debut single from Petit Milady. It is a double A-side.
It is the opening theme song for the anime Yu-Gi-Oh! Zexal II (遊☆戯☆王Zexal II).
Check out the MV for both songs.
The limited editions come with a DVD featuring either a music video or bonus footage.
Petit Milady is an idol group consisting of popular voice actresses Yuki Aoi and Taketatsu Ayana.
Tracklist
Regular Edition

CD

Kagami no Dualism (鏡のデュアル・イズム)
100% Cider Girl (100%サイダーガール)
Kagami no Dualism (Instrumental)
100% Cider Girl (Instrumental)
Doki Dokido (ドキ♡ドキド)
Limited Editions

CD

Kagami no Dualism
100% Cider Girl
Kagami no Dualism (Instrumental)
100% Cider Girl (Instrumental)

DVD (Type A)

100% Cider Girl (Music Video)

DVD (Type B)

Kagami no Dualism (TV Spot / Special Making)
Music Video (PV)