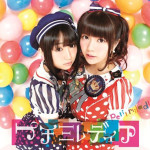 Petit Milady's 1st album Petit Miladear (プチミレディア) will be released on May 7.
The CD contains 13 tracks including all CD and singles by Petit Milady since their debut, and also new songs.
The MV for Ma Chérie has been revealed.
Yuki Aoi and Taketatsu Ayana sing this new tune in harmony.
As you may have guessed, the title of this album is a word play with the name of the idol group.
The limited edition come with either a DVD or a Blu-ray featuring music videos or live footage depending on the version.
Tracklist
CD

Hajimarism (ハジマリズム)
trip trick trap
azurite
Kagami no Dualism (鏡のデュアル・イズム)
Kasanariaru (カサナリアル)
Doki Doki (ドキ♡ドキド)
Fortune Future!
Radio Whip (Radioホイップ)
Suki Kira Kirai Daisuki (スキ キライ キライ 大スキ♡)
100% Cider Girl (100%サイダーガール)
Akaneiro no Diary (茜色のダイアリー)
Ma Chérie
100% Cider Girl Retro Future Mix
DVD (Type A)

100% Cider Girl (Music Video)
2nd Single Release Event in Nicofarre Digest Movie ( セカンドシングル発売記念イベントIn ニコファーレダイジェスト映像à
Blu-ray (Type B)

100% Cider Girl (Music Video)
Azurite (Music Video)
Ma Chérie (Music Video)
Music Video (PV)