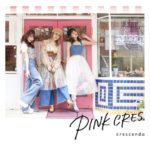 PINK CRES. will release their new mini album crescendo on June 28.
This is the first album of the PINK CRES. and marks their debut since their formation in May of last year.
It will be released under the label Up-Front Works ; the fans could already buy it at the last Buono! concert on May 22.
Natsuyaki Miyabi (ex Berryz Kobo) officially resumed her singing activities in this group PINK CRES.
The album will feature 9 songs in total.
The songs like Tell me why, Last Love and Summer wonderland were performed in concert several months ago ; you can watch their live videos below.
Tracklist
fun fun fun
LOVE CANDY
Uwa no Sora (ウワノソラ)
Kirei・Kawai・Mirai (キレイ・カワイ・ミライ)
Last Love (ラスラブ)
Katasumi (片隅)
Warning ~Mirai Keihou~ (Warning~未来警報~)
Tell me why
Summer wonderland
Videos (Live)
https://youtu.be/hJYhNWR7hzE
https://youtu.be/tIxUNt5BBfk
https://youtu.be/19Hr4yzYrM4
https://youtu.be/h8up3g1c_OQ