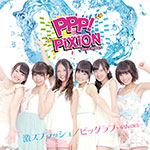 PPP! PiXiON's 2nd single Geki Splash / Big Love ~Kibou no Tanjou~ (激スプラッシュ / ビッグラブ ~希望の誕生~) will be released on July 21.
This is a double A-side single. The CD includes 2 songs and their instrumental versions.
The music video has been released.
Geki Splash is a summer song. It is energetic and upbeat.
Tracklist
Geki Splash (激スプラッシュ)
Big Love ~Kibou no Tanjou~ (ビッグラブ ~希望の誕生~)
Geki Splash (激スプラッシュ) (Instrumental)
Big Love ~Kibou no Tanjou~ (ビッグラブ ~希望の誕生~) (Instrumental)
Music Video (PV)