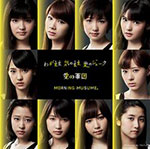 Morning Musume's 54th single Wagamama Ki no Mama Ai no Joke / Ai no Gundan (わがまま 気のまま 愛のジョーク / 愛の軍団) will be released on August 28.
It is the first release from Morning Musume since the graduation of Tanaka Reina. 7 editions are available.
It is a double A-side single. The coupling song is different depending on the type of the CD.
The limited editions include a bonus DVD featuring 2 versions of the music video and a ticket for a handshake event with the members of Momusu.
Furthermore, Morning Musume will perform at Hello! Project 2013 Summer Cool Hello! from July 27 to August 31.
Regular Edition Type A
CD

Wagamama Ki no Mama Ai no Joke (わがまま 気のまま 愛のジョーク)
Ai no Gundan (愛の軍団)
Bouya (坊や) (Michishige Sayumi, Fukumura Mizuki, Iikubo Haruna, Sato Masaki, Kudo Haruka)
Wagamama Ki no Mama Ai no Joke (わがまま 気のまま 愛のジョーク) (Instrumental)
Ai no Gundan (愛の軍団) (Instrumental)
Regular Edition Type B
CD

Wagamama Ki no Mama Ai no Joke (わがまま 気のまま 愛のジョーク)
Ai no Gundan (愛の軍団)
Futawari Koibito Ichinensei (ふんわり恋人一年生) (Ikuta Erina, Sayashi Riho, Suzuki Kanon, Ishida Ayumi, Oda Sakura)
Wagamama Ki no Mama Ai no Joke (わがまま 気のまま 愛のジョーク) (Instrumental)
Ai no Gundan (愛の軍団) (Instrumental)
Limited Edition Type A
CD

Wagamama Ki no Mama Ai no Joke (わがまま 気のまま 愛のジョーク)
Ai no Gundan (愛の軍団)
Makeru Ki Shinai Konya no Shoubu (負ける気しない 今夜の勝負)
Wagamama Ki no Mama Ai no Joke (わがまま 気のまま 愛のジョーク) (Instrumental)
Ai no Gundan (愛の軍団) (Instrumental)
DVD

Wagamama Ki no Mama Ai no Joke (わがまま 気のまま 愛のジョーク) (Music Video)
Wagamama Ki no Mama Ai no Joke (わがまま 気のまま 愛のジョーク) (Music Video Other Ver.)
Limited Edition Type B
CD

Wagamama Ki no Mama Ai no Joke (わがまま 気のまま 愛のジョーク)
Ai no Gundan (愛の軍団)
Makeru Ki Shinai Konya no Shoubu (負ける気しない 今夜の勝負)
Wagamama Ki no Mama Ai no Joke (わがまま 気のまま 愛のジョーク) (Instrumental)
Ai no Gundan (愛の軍団) (Instrumental)
DVD

Wagamama Ki no Mama Ai no Joke (わがまま 気のまま 愛のジョーク) (Music Video)
Wagamama Ki no Mama Ai no Joke (わがまま 気のまま 愛のジョーク) (Music Video Other Ver.)
Type C
CD

Wagamama Ki no Mama Ai no Joke (わがまま 気のまま 愛のジョーク)
Ai no Gundan (愛の軍団)
Makeru Ki Shinai Konya no Shoubu (負ける気しない 今夜の勝負)
Wagamama Ki no Mama Ai no Joke (わがまま 気のまま 愛のジョーク) (Instrumental)
Ai no Gundan (愛の軍団) (Instrumental)
DVD

Wagamama Ki no Mama Ai no Joke (わがまま 気のまま 愛のジョーク) (Music Video)
Wagamama Ki no Mama Ai no Joke (わがまま 気のまま 愛のジョーク) (Music Video Other Ver.)
Type D
CD

Wagamama Ki no Mama Ai no Joke (わがまま 気のまま 愛のジョーク)
Ai no Gundan (愛の軍団)
Bouya (坊や) (Michishige Sayumi, Fukumura Mizuki, Iikubo Haruna, Sato Masaki, Kudo Haruka)
Wagamama Ki no Mama Ai no Joke (わがまま 気のまま 愛のジョーク) (Instrumental)
Ai no Gundan (愛の軍団) (Instrumental)
Type E
CD

Wagamama Ki no Mama Ai no Joke (わがまま 気のまま 愛のジョーク)
Ai no Gundan (愛の軍団)
Futawari Koibito Ichinensei (ふんわり恋人一年生) (Ikuta Erina, Sayashi Riho, Suzuki Kanon, Ishida Ayumi, Oda Sakura)
Wagamama Ki no Mama Ai no Joke (わがまま 気のまま 愛のジョーク) (Instrumental)
Ai no Gundan (愛の軍団) (Instrumental)
Music Video (PV)