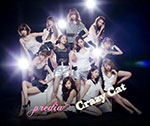 Predia's 4th single Crazy Cat will be released on April 17.
The single contains 2 tracks and their instrumental versions.
Crazy Cat is a electro dance music song, whereas the B-side track Silky Rain is a pop song.
Check out the music video.
Moreover, the idol group will hold the live Predia Party at Shibuya-AX, Tokyo, on May 3.
Tracklist
Crazy Cat
Silky Rain (シルキーレイン)
Crazy Cat (Instrumental)
Silky Rain (シルキーレイン) (Instrumental)
Predia – Crazy Cat (MV)