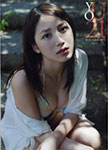 Kikkawa You's 2nd photobook You21 will be released on May 1. This date also corresponds to Kikka's 21st birthday.
The photobook contains photos taken during the last 2 years for UTB magazine and unreleased shots. It includes pictures of Kikkawa You showing various expressions and wearing many outfits such as swimsuits.
The book comes with a bonus DVD featuring making-of video.
Moreover, Kikkawa You will release her 2nd album Two You and her DVD Music Video Clips Vol.1 on April 24.