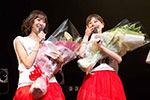 Izumi Terumi and Takeda Megumi graduated from Predia on February 22.
Moreover, Predia announced that they are going to make their major debut this summer.
The announcement was made during The Graduation Party of Terumi & Megumi held at Tsutaya O-West in Tokyo.
This news surprised the members of the idol group who were very happy and cried tears of joy. Further information about their major debut will be announced later.
Izumi Terumi and Takeda Megumi were members of Predia since the creation of the idol unit in November 2010. They received gifts and messages from the other members and the fans for their last appearance on stage.
Setlist
Hey Now!!
Sparkring
Little Bird
Honey B (ハニーB)
Diamond High Heels
Going to Ride
Crazy Cat
Hey Boy
Sunburned Heart
Silky Rain (シルキーレイン)
Kimi Mitai ni (きみみたいに)
You Slipped Away
Melty Snow
Dream of Love
Mid9t Luv
– Encore –
Re:start Game
Futari Kinenbi (ふたり記念日)
Dia Love