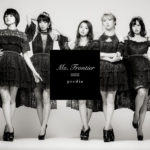 The new single of predia will be released on October 25.
It is entitled Ms. Frontier.
The MV was unveiled.
The main song Ms. Frontier is a electronic / dubstep song.
3 versions of the single will be available. The CDs are different depending on the edition.
To celebrate its 7th birthday, the group of sexy idols will hold predia 7th Anniversary tour (in Hokkaido, Osaka, Aichi, Saitama and Tokyo) from October 7 to November 23.
Tracklist
Type A

CD

Ms. Frontier
Close to you
Shade of you
Ms. Frontier (Instrumental)
Close to you (Instrumental)
Shade of you (Instrumental)

DVD

Ms. Frontier (Music Video)
Type B

CD

Ms. Frontier
Close to you
Ms. Frontier (Instrumental)
Close to you (Instrumental)
Type C

CD

Ms. Frontier
Shade of you
Ms. Frontier (Instrumental)
Shade of you (Instrumental)
Music Video (PV)