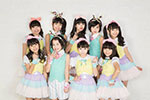 Prism☆Mates (プリズム☆メイツ) is a Japanese idol group formed in 2013.
It currently consists of 9 members who are considered as trainees.
Prism☆Mates is a sister group of Prizmmy☆. They formed together a special unit named Prism☆Box.
Hagino Kanon, Miyazaki Hina, Takahashi Mirei and Suzuki Runa are former 3rd generation members of Roni Girls.
Asakura Natsu, Miyazaki Hina, Takayanai Yuka and Suzuki Runa are models for JS Girl (JSガール).
Takahashi Mirei is the younger sister of Prizmmy☆'s Takahashi Karin.
In April 2014, Miyazaki Hina joined Prizmmy☆. She pursues her activities with both idol groups.
Profile
Prism☆Mates (プリズム☆メイツ)
Years active : 2013 – present
Label : Avex Entertainment
Agency : Avex Pro Works
Members
Hagino Kanon (萩野伽音)
Asakura Natsu (薄倉奈津)
Miyazaki Hina (宮崎妃夏)
Takahashi Mirei (高橋実鈴)
Takayanagi Yuka (高柳祐花)
Suzuki Runa (鈴木瑠奈)
Aoki Momona (青木萌々菜)
Hamamura Airi (浜村愛梨)
Ishii Sana (石井紗那)
Discography
Singles
06/11/2013 : Dancing Doctor (Kanon & Mirei)
06/11/2013 : Glory Days (Runa & Hina)
11/12/2013 : Pojikaru World (ポジカル ワールド) (Natsu & Yuka)
14/02/2014 : Chocolate Paradise (チョコレートパラダイス) (Momona)
Other Singles
24/04/2013 : RainBow × RainBow (Prism☆Box)
26/02/2014 : Happy Star Restaurant (ハッピースター☆レストラン) (Prism☆Box)
Albums
Links
News