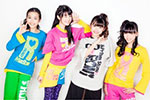 Prizmmy☆ will release their 1st album Take Off on July 24.
The album contains 11 tracks, including the latest singles of Prizmmy☆ and 2 new songs untitled for now.
The limited edition comes with a bonus DVD featuring footage of "Pretty Rhythm Dream Festival" Prizmmy☆ Special Dream Live.
Moreover, Prizmmy☆'s upcoming single Ez Do Dance will go on sale on the same date.
Tracklist
CD

Nijiiro Coaster (虹色コースター)
Brand New World!!
My Transform
Everybody's Gonna Be Happy
Smooth & Easy
Dear my Future ~Mirai no Juban e~ (Dear my Future ~未来の自分へ~)
Tear Smile
Body Rock
Panpina! (パンピナッ!)
Best Friend (Live ver.)
Boy Meets Girl (Live ver.)
DVD

"Pretty Rhythm Dream Festival" Prizmmy☆ Special Dream Live Digest (『プリティーリズム ドリーム☆フェスティバル』 Prizmmy☆スペシャルドリームライブ ダイジェスト)
Video Comment