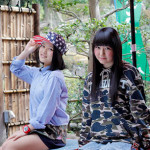 Rhymeberry announced to release a new single MIRRORBALL at the end of May.
The release date of the single wad not determined. This single will be a limited distribution.
The new member MC MISAKI (ex-Aither) makes her first appearance on this single. The idol group had left two members (MC HIME and DJ HIKARU) in last February, MC MISAKI joined the only member MC MIRI the same month.
The single cover was revealed on May 7.
The CD contains the song MIRRORBALL which was written by Dahtsu and composed and arranged by Sagawa Hiroki. The B-side song because of you ~at Shibuya Glad~ was written by the members of Rhymeberry (MC MIRI and MC MISAKI) and also composed by Sagawa Hiroki.
The CD contains acapella and instrumental versions of the main song.
Rhymeberry performed the song MIRRORBALL in live on May 5 in duet with Seno Sister (せのしすたぁ) at Shinjuku MARZ. The video was posted on YouTube, what you can watch below.
A new chapter begins for the group of Rhymeberry !
Tracklist
MIRRORBALL
because of you ~at Shibuya Glad~ (because of you 〜at 渋谷Glad〜)
MIRRORBALL (instrumental)
MIRRORBALL (acapella)
Video