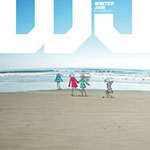 Rhymeberry's new single Winter Jam (ウインタージャム) will be released on February 12.
This is the 3rd single from Rhymeberry under T-Palette Records label.
A CD and a 12-inch LP editions are available.
Winter Jam (ウインタージャム) is a tribute to Schadaraparr's song Summer Jam '95 (サマージャム'95).
The coupling song of the CD edition, R.O.D., was recorded during Rhymeberry's live performance Magic Party (マジックパーティー) held in August 2013 at Shibuya WWW in Tokyo. The arrangement is different from the single of the same name.
Audio sample of Winter Jam (ウインタージャム) by the rap idol group has been released.
Tracklist
CD

Winter Jam (ウインタージャム)
R.O.D. (2013 Live Tape @ www)
Winter Jam (ウインタージャム) (Instrumental)
12-inch LP

Winter Jam (ウインタージャム)
SuperMCZTokyo
Winter Jam (ウインタージャム) (Instrumental)
SuperMCZTokyo (Instrumental)