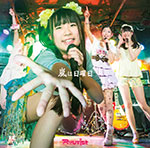 RYUTist's new single Arashi wa Nichiyoubi (嵐は日曜日) was released on September 29.
It is the 7th single from RYUTist.
Only one edition is available. The CD includes 3 songs.
Furthermore, Sato Nonoko Birthday Live will be held on November 10 at NSG Square in Niigata.
RYUTist will also be the guests of Kotone Mai Live Tour on November 3.
Tracklist
Arashi wa Nichiyoubi (嵐は日曜日)
Arashi wa Nichiyoubi (嵐は日曜日) (Minus RYUTist)
Café RYUTist #005