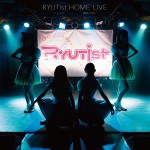 RYUTist's 1st album RYUTist Home Live will be released on August 14.
The album contains 12 tracks including some songs from the previous singles of the idol group from Niigata.
This is their first CD for almost one year. It will be on sale nationwide.
A new version of Raririreru (ラリリレル) and Beat Goes On ~Yakusoku no Basho (~約束の場所~) has been recorded with the 4 current members.
Shinwa (神話) and Taiyou no Silhouette (太陽のシルエット) are new songs.
Furthermore, RYUTist Home Live 4th Anniversary will be held on August 9 in Niigata.
Tracklist
RYUTiswing
Zero and Perfect Moon ~Kawaranai Omoi~ (~変わらない想い~)
Sore wa Mata Betsu no Ichinichi (それはまた別の一日)
Ranfan (ランファン)
Huckleberry (ハックルベリー)
Mekuru Mekuru Me (メクルメクルメ)
Wind Chime!~古町のトンネル~
Taiyou no Silhouette (太陽のシルエット)
Shinwa (神話)
Bitter With The Sweet
Beat Goes On ~Yakusoku no Basho (~約束の場所~)
Raririreru (ラリリレル)