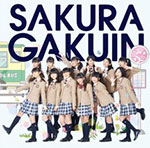 Sakura Gakuin 2013 Nendo ~Kizuna~ will be released on March 12.
This is the 4th album from Sakura Gakuin. The CD contains 12 songs including their latest singles Ganbare!! (顔笑れ!!) and Jump Up ~Chiisana Yuuki (~ちいさな勇気~).
Sakura Gakuin 2013 Nendo ~Kizuna~ also includes songs from the sub-units Cooking Club Mini-Patissier, Science Club Kagaku Kyuumei Kiko Logica?, Tennis Club Pastel Wind, and Go-Home Club Sleepiece.
The graduation song of Horiuchi Marina, Iida Raura, Sugisaki Nene, and Sato Hinata is the 2013 unplugged version of Friends. These 4 members are going to leave the idol group after the concert The Road to Graduation Final ~Sakura Gakuin Sotsugyou~ (~ さくら学院 2013年度 卒業~) which will be held on March 30 at Shibuya Public Hall in Tokyo.
4 versions of Sakura Gakuin 2013 Nendo ~Kizuna~ are available. The limited editions come with a DVD featuring a MV and bonus footage.
Tracklist
CD

Mezase! Super Lady -2013 Nendo- (目指せ!スーパーレディー -2013年度-)
Makeruna! Seishun Hizakozou (負けるな!青春ヒザコゾウ)
Hana*Hana
Ganbare!! (顔笑れ!!)
Shana Rihan Dorayaki Hime (しゃなりはんなりどら焼き姫) / Cooking Club Mini-Patissier
Welcome to My Computer / Science Club Kagaku Kyuumei Kiko Logica?
Yosouijou no Smash (予想以上のスマッシュ) / Tennis Club Pastel Wind
Friends ~Unplugged 2013~ / Horiuchi Marina, Iida Raura, Sugisaki Nene, Sato Hinata
I・J・I
Mikansei Silhouette (未完成シルエット)
Jump Up ~Chiisana Yuuki (~ちいさな勇気~)
– Bonus Track –
Non-stop Kitakubu Zaitaku Wasshoi!! (ノンストップ☆帰宅部 在宅わっしょい!!) / Go-Home Club Sleepiece Remix
DVD (Type "Sa")

Jump Up ~Chiisana Yuuki (~ちいさな勇気~) (Music Video)
Sakura Gakuin Semester End Test 2013 (さくら学院 学年末テスト2013)
DVD (Type "Ku")

Hana*Hana
Sakura Gakuin Culture Quiz 2013 (さくら学院 カルトクイズ2013)
DVD (Type "Ra")

Ganbare!! (顔笑れ!!) (Music Video)
Unplugged Live Footage (中等部3年メンバーによるアコースティックライブ)