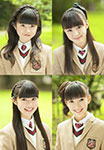 Four members will graduate from Sakura Gakuin on next March 29.
These members are Mizuno Yui, Kikuchi Moa, Taguchi Hana and Notsu Yunano.
Kikuchi Moa is the 4th Student Council President and Mizuno Yui is Vice President. They currently are the eldest members of Sakura Gakuin and are part of the 2nd generation. They are also members of the former Sakura Gakuin's sub-unit Babymetal and the other sub-unit Mini-Patissier along with Taguchi Hana.