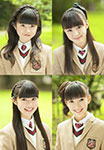 Four members will graduate from Sakura Gakuin on next March 29.
These members are Mizuno Yui, Kikuchi Moa, Taguchi Hana and Notsu Yunano.
Kikuchi Moa is the 4th Student Council President and Mizuno Yui is Vice President. They currently are the eldest members of Sakura Gakuin and are part of the 2nd generation. They are also members of the former Sakura Gakuin's sub-unit Babymetal and the other sub-unit Mini-Patissier along with Taguchi Hana.
The 4 members will graduate from the junior high school in parallel and they all are aged 15.
It might be possible that the sub-unit Mini-Patissier will disband after the departure of Kikuchi, Mizuno and Taguchi.
Kikuchi, Mizuno and Notsu are also members of the sub-unit Twinklestars with Kurashima Sara and Yamaide Aiko, reactive group since Septembre 2014.
Furthermore, Sakura Gakuin released its 2nd DVD single Aogeba Toutoshi ~From Sakura Gakuin 2014~ on March 4. The four members played the leading roles on the music video. They will make their last appearance on the next album of Sakura Gakuin entitled Sakura Gakuin 2014 Nendo ~Kimi ni Todoke~ which will be released on next March 25.
Their graduation will be held with the idol group during a farewell concert at NHK Hall on next March 29.