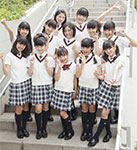 Sakura Gakuin's new single Ganbare!! (顔笑れ!!) will be released on October 9.
It is the 6th single from Sakura Gakuin. 2 new members joined the idol group.
Ganbare!! is a rock song which theme is "gloomy Monday".
The coupling tracks are performed by Sakura Gakuin Cooking Club Mini-Patissier and Science Club Kagaku Kyumei Kiko Logica?
The limited editions include a bonus DVD with either the music video or songs recorded at the live performance held in April at Shibuya AX.
Regular Edition
CD

Ganbare!! (顔笑れ!!)
Pumpkin Parade (Sakura Gakuin Cooking Club Mini-Patissier)
Ganbare!! (顔笑れ!!) (Instrumental)
Pumpkin Parade (Instrumental)
Limited Edition Type A
CD

Ganbare!! (顔笑れ!!)
Welcome to my Computer (Sakura Gakuin Science Club Kagaku Kyumei Kiko Logica?)
Ganbare!! (顔笑れ!!) (Instrumental)
Welcome to my Computer (Instrumental)
DVD

Ganbare!! (顔笑れ!!) (Music Video)
Limited Edition Type B
CD

Ganbare!! (顔笑れ!!)
Pumpkin Parade
Ganbare!! (顔笑れ!!) (Instrumental)
Pumpkin Parade (Instrumental)
DVD

School Days
Otome Gokoro (オトメゴコロ)
Miracle Patiful Hamburger (ミラクル♪パティフル♪ハンバーガー♪)
Suimin Busoku (すいみん不足)
Science Girl Silent Boy (サイエンスガール サイレントボーイ)
Music Video (PV)