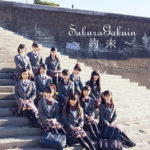 Sakura Gakuin release their new album Sakura Gakuin 2016 Nendo ~Yakusoku~ (さくら学院 2016年度 ~約束~) on March 3.
This is the 7th album by the idol group.
%embers Kurashima Sara and Kurosawa Mirena make their last appearance in this album ; they perform in duet a song in the album. They will graduate from the Sakura Gakuin at the end of March.
The album features a cover of their first single Yume ni Mukatte.
It is sold in 3 editions: 1 regular and 2 limited.
The Blu-ray and DVD of the limited editions "Sakura" and "Gakuin" will contain, according to the disc, a clip and various videos.
Tracklist
CD

Mezase! Super Lady -2016 Nendo- (目指せ!スーパーレディー – 2016年度 –)
Makeru! Seishun Hizakozou (Band Ver.) (負けるな!青春ヒザコゾウ)
Song for smiling (Band Ver.)
Melodic Solfege (メロディック・ソルフェージュ)
Davada♪Salad de C'est bon☆Avenue (ダバダ♪サラダ de セボン☆アベニュー) / Cooking Club Minipati
Hashire Shoujiki Mono (走れ正直者) / Go Home Club sleepiece
Peace de Check! -2016- (ピース de Check ! -2016-) / Purchasing Club
Delta (デルタ) / Science Club Kagaku Kyumei Kiko Logica? ver. 2.0
Yubikiri (ユビキリ) / Kurashima Sara & Kurosawa Mirena
Otomegokoro (Band Ver.) (オトメゴコロ。)
Marshmallow Iro no Kimi to (マシュマロ色の君と) (Band Ver.)
Mikansei Silhouette (未完成シルエット) (Band Ver.)
Identity (アイデンティティ)
Yume ni Mukatte (夢に向かって)
Limited Edition "Sakura" Blu-ray

Melodic Solfege (Music Video)
FLY AWAY / @ 2016.11.13 Sakura Gakuin Matsuri☆2016
Otomegokoro (オトメゴコロ。) / @ 2016.11.13 Sakura Gakuin Matsuri☆2016
Marshmallow Iro no Kimi to (マシュマロ色の君と) / @ 2016.11.13 Sakura Gakuin Matsuri☆2016
Limited Edition "Gakuin" DVD

Sakura Gakuin 2016 Nendo Gakunentsu Test (さくら学院 2016年度 学年末テスト; Sakura Gakuin 2016 End of the School Year Test)
Video