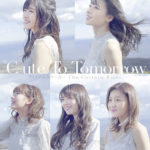 °C-ute will release their last single To Tomorrow / Final Squall / The Curtain Rises (To Tomorrow / ファイナルスコール / The Curtain Rises) on March 29.
This is the 31st single major of °C-ute and their 36th one overall. But it is also their last before their upcoming break-up and graduation in June.
The MVs of the 3 songs were unveiled.
To close the collaboration with °C-ute, their producer Tsunku♂ wrote the songs To Tomorrow and The Curtain Rises. These songs were arranged by Suzuki Shunsuke and Hirata Shoichiro respectively.
The song The Curtain Rises contains a rap by U.M.E.D.Y.
The song Final Squall was written by Shock Eye, composed and arranged by Kusano Masashi.
The limited editions and the first sales of the regular editions will came with a serial number card for, after a draw, have the chance to win a ticket to attend one of the launch events of the single. A special box will also be published, including all versions of the single.
More information on the separation of °C-ute will be disclosed later.
Tracklist
CD

To Tomorrow
Final Squall (ファイナルスコール)
The Curtain Rises
To Tomorrow (Instrumental)
Final Squall (Instrumental)
The Curtain Rises (Instrumental)
Limited Edition A DVD

To Tomorrow (Music Video)
Limited Edition B DVD

Final Squall (Music Video)
Limited Edition C DVD

The Curtain Rises (Music Video)
Limited Edition SP DVD

To Tomorrow (Dance Shot Ver.)
Final Squall (Dance Shot Ver.)
The Curtain Rises (Dance Shot Ver.)
Music Video (PV)