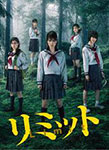 The drama Limit (リミット) starring Sakuraba Nanami (bump.y) will be released on DVD on November 22.
The drama is an adaptation of the manga of the same name by Suenobu Keiko.
Sakuraba Nanami plays the role of the main character Konno Mizuki. The story is about 5 students trying to survive in the woods after a bus accident during a school trip.
The DVD box set includes the 12 episodes of the drama. It comes with a bonus disc featuring making-of, press conference footage, interviews, and more.
The TV series was broadcast from July 12 to September 27 on TV Tokyo (テレビ東京).