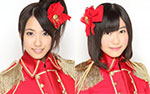 Sato Seira and Mukaida Manatsu announced their graduation from SKE48.
The announcement was made on January 17 during SKE48 Team S live performance.
The details on their graduation ceremonies haven't been revealed yet.
Sato Seira will leave the idol group in February. She explained that she had learnt a lot over the last 5 years as a member of SKE48. She wants to continue her activities in the entertainment industry.
Mukaida Manatsu will stay until March. She decided to focus on her studies as she is going to pass exams to enter university this year.
Both girls are members of SKE48 Team S.