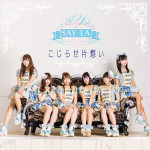 Say-La's 1st single in 2 years, Kojirase Kataomoi (こじらせ片想い), reached #2 on the Oricon chart on November 21.
Say-La is a 6-girl idol unit comprised of Hikari Agarie, Nonno Mori, Aoi Nishino, Rika Shiraishi, Izumi Fujisawa, and Ruri Amahara. Their tagline, "the first traditional idols in 3000 years", made waves as perhaps being overstated.
The track is featured on Nippon TV's Bubblism Power Play, and as the opening song for TV Saitama's music video program, V-Clips. As of November 28, Kojirase Kataomoi was announced as Kawaiian TV's Power-Push single, the third "tie-up" song, and airs at 11,000 Japan-wide Family Mart convenience stores between 10 am and 5 pm.
In the week leading up to the single release, Say-La has taken over Shibuya, with the music video of Kojirase Kataomoi airing at several stores: Tower Records, Shibuya Center Building, KN Shibuya 2, ABC Mart, Adores Shibuya, Blue Seall, and even inside Tower Records.
The Kojirase Kataomoi single was released in 4 different versions, each with varying B-sides: Doushite, Mi Ranger (A), 1/2 x2 (B), Zurui yo (C), and I Love You (D).
The release events were held on November 23 at Sogo Kawaguchi 3rd Floor's Station Main Entrance Special Stage, on November 24 at Diver City Tokyo Plaza Festival Stage, on November 26 at Tower Records Shibuya 4th Floor Event Space and Tobu Department Store Ikebukuro's 8th Floor Rooftop Sky Deck Stage. The culmination of the release events, a free solo live show, was held on November 27 at Shinjuku Blaze.
Say-La, the first traditional idols in 3000 years, are a force to be reckoned with.
Tracklist
Type A

Kojirase Kataomoi (こじらせ片想い)
Doushite, Mi Ranger (どうして、ミレンジャー)
Kojirase Kataomoi (instrumental)
Doushite, Mi Ranger (instrumental)
Type B

Kojirase Kataomoi
1/2 ×2
Kojirase Kataomoi (instrumental)
1/2 ×2 (instrumental)
Type C

Kojirase Kataomoi
Zurui yo (ずるいよ)
Kojirase Kataomoi (instrumental)
Zurui yo (instrumental)
Type D

Kojirase Kataomoi
I Love You
Kojirase Kataomoi (instrumental)
I Love You (instrumental)
Music Video (PV)