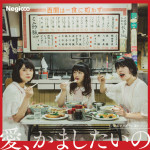 The new single of Negicco entited Ai, Kama Shitai no (愛、かましたいの) will be released on December 20.
This is the 21st single of Negicco.
The MV was unveiled. The members take a liking to Chinese life, and wear qipaos in the clip.
The single will be sold in several editions: one regular, two limited A and B.
A vinyl version of the single will be also on sale.
The song Ai, Kama Shitai no was written and composed by Dojima Kohei.
The B-side song Watashi wo Negi and Tsuretette was written, composed and arranged by Connie.
The Type A edition will contain as bonus one of the old singles of the re-recorded Negicco, Koi no Express Train, composed by Connie and arranged by Kitasono Minami.
The Type B edition will contain the CD with only the lead song.
Tracklist
Regular Edition

CD

Ai, Kama Shitai no (愛、かましたいの)
Watashi wo Negi ni Tsuretette (私をネギーに連れてって)
Ai, Kama Shitai no (Instrumental)
Watashi wo Negi ni Tsuretette (Instrumental)
Type A

CD

Ai, Kama Shitai no (愛、かましたいの)
Watashi wo Negi ni Tsuretette (私をネギーに連れてって)
Ai, Kama Shitai no (Instrumental)
Watashi wo Negi ni Tsuretette (Instrumental)
Koi no Express (Azusa ver.) (恋のEXPRESS TRAIN(あずさver.))
Type B

CD

Ai, Kama Shitai no (愛、かましたいの)
Vinyl

Ai, Kamashitai no (愛、かましたいの)
Watashi wo Negi ni Tsuretette (私をネギーに連れてって)
Music Video (PV)