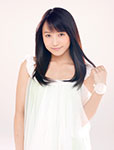 Sayashi Riho's photobook Taiyou (太陽) will be released on November 25.
The theme of the photobook is "the summer of a 15-year-old girl". The shooting has been done in various places across Japan (Kansai, Kyushu, Tokyo, etc.) during the concert tour of Morning Musume.
The book includes photos of Sayashi Riho posing with deers, walking in the streets of an old city, going to an amusement park at night, traveling by ferry alone…
The pictures were taken by Sato Hiroyuki. The book is published by Wani Books.