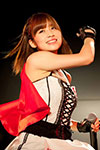 Sengoku Minami will hold her 1st solo live performance on April 30.
Up Up Girls (Kari) leader Sengoku Minami will celebrate her 23th birthday on that day.
The event will take place at Shibuya WWW in Tokyo.
The announcement was made on March 7 on Up Up Girls (Kari) show Miko-sei (みこ生) on Ustream.
Sengoku Minami's first reactions were : "Happy! Amazing! I'm so surprised!".
Other members of the idol group may make an appearance as guests during this live performance.
Furthermore, Up Up Girls (Kari) will release their new single (Kari) wa Kaesuze Be your Soul / Party! Party! / Jumper! ((仮)は返すぜ☆be your soul/Party! Party!/ジャンパー!) on April 9.