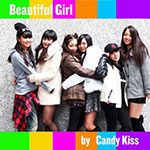 Candy Kiss' new single Beautiful Girl will be released on March 19.
This is the 3rd single from Candy Kiss. Only one edition is available.
The MV and live footage recorded on September 29, 2013 at Akiba Sofmap have been released.
The coupling songs are the remixed versions of the idol group's previous single Tinker Bell ga Yattekita (Tinker Bellがやって来た).
In addition, Candy Kiss will hold a release event at Tower Records Machida on March 19.
Tracklist
Beautiful Girl
Beautiful Girl (Original Karaoke)
Tinker Bell ga Yattekita (Tinker Bellがやって来た) (Discotick Mix)
Tinker Bell ga Yattekita (Tinker Bellがやって来た) (Techno Pop Mix)
Video (MV & Live)