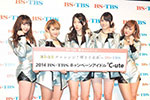 °C-ute will start a new TV program titled °C-ute no Challenge TV (℃-uteのチャレンジTV) on BS-TBS. It will start airing on April 24.
°C-ute no Challenge TV will be broadcast every last Thursday of the month from April to September.
The slogan is "Happy mood challenge! BS-TBS shine into the future" (満足気分 チャレンジ!輝きを未来へ BS-TBS).
In addition, the idol group from Hello! Project will participate in TV spots and advertisement for 2014 BS-TBS Campaign Idol (2014 BS-TBS キャンペーンアイドル).
Suzuki Airi attended the conference and commented : "This is the first time that we participate in BS-TBS' campaign for idols. I would like to do my best".
Okai Chisato also told her enthusiasm : "I want more excitement than the Olympics".
°C-ute's new song Love Take It All is the theme song for the TV show.
Yajima Maimi said : "I think that this song gives the feeling that strong women do not want to regret the way they have been living. I would like to sing the message to allow access to everyone".
The announcement was made on March 5 at Akasaka Blitz in Tokyo.