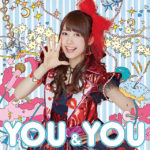 Serizawa Yu, member of i☆Ris, began a solo career !
She released her debut mini album YOU & YOU on April 25, on Avex Trax label.
The MV for Voice for YOU! was unveiled. You can watch it below.
Serizawa Yu, whose usual image color under i☆Ris is blue, opt for red this time.
The mini album is available in 2 editions.
The CD contains 6 titles in total..
The limited edition Blu-ray contain the clip, its off-shot version, and videos of solo live of Serizawa which celebrated her 22th birthday in December 2016.
Serizawa Yu recently opened her own official website.
Tracklist
CD

Voice for YOU!

Kiss! Kiss! Kiss!
Dramatic Radio (ドラマチックレイディオ)
WAGA-MA-MA-MAGIC
Imaginary
Kataomoi Exapansion (片思いExpansion)
Blu-ray

Voice for YOU! (Music Video)

Voice for YOU! (Off Shot Movie)
YU SERIZAWA 22nd Birthday Live~Prezent Box~
YU SERIZAWA 22nd Birthday Live~Prezent Box~ (Off Shot Movie)
Music Video (PV)