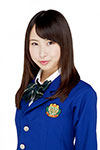 Shimada Rena announced her graduation from NMB48.
The date of Shimada Rena's graduation ceremony hasn't been determined yet.
The announcement was made on Feburary 27 during the concert NMB48 Team M Osaka Tour 2014 ~Bench Attatemetemashita~ (NMB48 TeamM大阪ツアー2014 ~ベンチ温めてました~).
Shimada Rena is the captain of Team M. She joined NMB48 in 2011 as a 2nd generation member of the idol group.