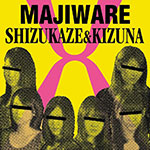 Shizukaze & Kizuna will release their new album Majiware (交) on November 6.
This mini-album includes 8 songs, including the rock version of their latest single Tsukushinbou (つくしん暴).
In addition, Shizukaze & Kizuna will hold a series of live performances in Tokyo and Nagoya in early November. The schedule hasn't been determined yet.
Tracklist
交-Majiwari-
Get the Glory
Shizukaze ni Notte (しず風にのって)
Tsukushinbou (つくしん暴)
Growing Up
Checkered Flag wo Tomeru (チェッカーフラッグをとめろ)
Aruiteikou (歩いていこう)
Pink no Rocket (Pinkのロケット☆彡)