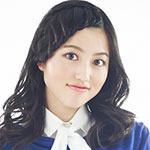 Dorothy Little Happy is an idol group which is becoming more and more popular. Based in Sendai, they held a series of live performances across Japan this summer.
Dorothy Little Happy's new single Asian Stone is on sale since October 16. Their 5th single Colorful Life, released in June, ranked 8th on Oricon weekly chart.
Check out our interview with Hayasaka Koumi.
Could you introduce yourself ?
My name is Hayasaka Koumi. I'm a member of Dorothy Little Happy and I'm 17 years old.
This summer you have been invited in some big events such as Tokyo Idol Festival or Idol Nation. How do you feel about it ?
We are glad to have participated in such events. It helped us to gain personality and to develop ourselves.
What are your goals for the future ?
We would like to hold live performances all over the world.
Personally we are always trying to improve ourselves for the future.
Do you have a message for your fans ?
We went to Hong Kong in May to perform at Kawaii Pop Festival 2013. We would like to go to other countries in Europe or America to meet our fans from overseas.
We would also like more people to know Dorothy Little Happy.
Thanks to Hayasaka Koumi and the staff of Dorothy Little Happy.