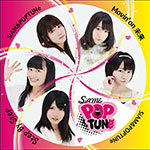 SiAM&POPTUNe's new single Movin' on Mirai (Movin'on 未来) on March 18.
This is the 2nd single from SiAM & POPTUNe.
The MV has been unveiled.
It is the tie-up song for Kayou Beast! (火曜Beast!) on Rainbow Town FM (レインボータウンFM) and Uta Musume (ウタ娘) on Teletama (テレ玉) in March.
Only one edition is available. The CD includes 2 songs.
The idol group will hold several live performances in Tokyo to promote this release.
Tracklist
Movin' on Mirai (Movin'on 未来)
Step by Step
Music Video (PV)