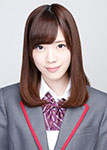 Nishikawa Nanami announced her graduation from Nogizaka46.
She will leave the idol group on March 22 after her participation in a last special event for their 7th single Barrette (バレッタ).
Nishikawa Nanami joined Nogizaka46 in 2013 after the 2nd Generation Audition. She is currently part of Kenkyuusei.
Nishikawa Nanami had held her coming-of-age ceremony along with Ito Karin, Akimoto Manatsu, Saito Yuri and Takayama Kazumi in January 2014.