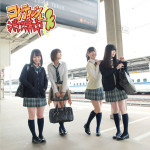 SKE48's 17th single Coquettish Juutaichuu (コケティッシュ渋滞中) will be released on March 31.
The list of the 21 Senbatsu members has been unveiled.
The centers are Matsui Jurina and Matsui Rena.
Check out the MV.
The music video was shot in the streets of Nagoya. The girls walk through famous local places such as Osu shopping street, port of Nagoya public aquarium, Oasis 21…
The coupling song Boku wa Shitteiru (僕は知っている) is the tie-up song for Documentary of SKE48.
Senbatsu members
Team S : Azuma Rion, Oya Masana, Kitagawa Ryoha, Futamura Haruka, Matsui Jurina, Miyazawa Sae, Miyamae Ami
Team KII : Ego Yuna, Oba Mina, Godo Saki, Soda Sarina, Takayanagi Akane, Furuhata Nao
Team E : Isohara Kyoka, Kimoto Kanon, Sato Sumire, Shibata Aya, Suda Akari, Tani Marika, Matsui Rena
Kenkyuusei : Matsumura Kaori
All editions come with a DVD featuring PVs and various bonus footage.
Furthermore, NMB48's 11th single Don't Look Back will go on sale on the same day.
Tracklist
Type A

CD

Coquettish Juutaichuu (コケティッシュ渋滞中)
Dirty (Team S)
Boku wa Shitteiru (僕は知っている)
Coquettish Juutaichuu (Off vocal)
Dirty (Off vocal)
Boku wa Shitteiru (Off vocal)

DVD

Coquettish Juutaichuu (Music Video)
Dirty (Music Video)
SKE48 Fan Handshake Event Simulation (SKE48ファン握手会シミュレーション)
Type B

CD

Coquettish Juutaichuu (コケティッシュ渋滞中)
Konya wa Join Us! (今夜はJoin us! ) (Team KII)
Boku wa Shitteiru (僕は知っている)
Coquettish Juutaichuu (Off vocal)
Konya wa Join Us! (Off vocal)
Boku wa Shitteiru (Off vocal)

DVD

Coquettish Juutaichuu (Music Video)
Konya wa Join Us! (Music Video)
SKE48 no Kami-tai Sokutei presented by BS Fuji (SKE48の神対測定 presented by BSフジ)
Type C

CD

Coquettish Juutaichuu (コケティッシュ渋滞中)
Oto wo Keshita TV (音を消したテレビ) (Team E)
Boku wa Shitteiru (僕は知っている)
Coquettish Juutaichuu (Off vocal)
Oto wo Keshita TV (Off vocal)
Boku wa Shitteiru (Off vocal)

DVD

Coquettish Juutaichuu (Music Video)
Oto wo Keshita TV (Music Video)
SKE48 Kenkyuusei no Mushashugyou ~Ice Skating ver.~ (SKE48研究生の武者修行~アイススケート編~)
Type D

CD

Coquettish Juutaichuu (コケティッシュ渋滞中)
Dirty (Team S)
Sakura, Oboeteitekure (桜、覚えていてくれ)
Coquettish Juutaichuu (Off vocal)
Sakura, Oboeteitekure (Off vocal)
Boku wa Shitteiru (Off vocal)

DVD

Coquettish Juutaichuu (Music Video)
Dirty (Music Video)
Graduation Documentary Chuugen no Uta ~Sayonara no Yokogao~ (卒業 documentary 仲間の詩~さよならの横顔~)
Theater Edition

CD

Coquettish Juutaichuu (コケティッシュ渋滞中)
Yoru no Kyoukasho (夜の教科書) (Selection 17 "AKB49 ~ no "AKB49 ~Renai Kinshi Jourei~")
Boku wa Shitteiru (僕は知っている)
SKE48 17th Single Medley
Coquettish Juutaichuu (Off vocal)
Yoru no Kyoukasho (Off vocal)
Boku wa Shitteiru (Off vocal)
Music Video (PV)