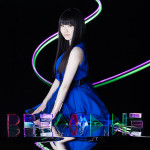 Popular young voice actress Tadokoro Azusa, who lent her voice to Aoi Kiriya in Aikatsu!, Fino Bloodstone in I Couldn't Become a Hero, so I Reluctantly Decided to Get a Job, Shizuka Mogami in The Idolm@ster Million Live!, Kiriko Shikishima in TV anime starting in April Denpa Kyoshi and a number of commercials, will release her 1st single, Dream Line, through Lantis Records on April 22nd.
Dream Line will be available in 2 editions: a Visual Edition featuring a jacket photo of Azusa Tadokoro, and an Illustrated Edition featuring brand new artwork by Hiroko Yaguchi, character designer for the Aikatsu! series.
Check out the MV.
The lyrics of Dream Line were written by yozuca*. The music was composed by Shunryu and arranged by Daisuke Kato.
The coupling song Positive Shaking was written by Yohei Matsui, composed by Shunryu and arranged by Effy.
Tadokoro Azusa is a regular on Idolm@ster Million Radio! every Thursday on Nico Live Official (http://ch.nicovideo.jp/MillionRADIO), and MuComi Plus, which airs live every Tuesday on Nippon Broadcasting from 00:00-1:00.
Tadokoro Azusa will perform in ANISONG World Tour Lantis Festival 2015 in Singapore, held at The Star Theatre on March 28th.
She is the winner of HoriPro's 36th Talent Scout Caravan Voice Actor Audition Grand Prize.
Tracklist
Dream Line
2. Positive Shaking
3. Setsuna Letter (Visual Edition Exclusive Track)
3. Departure (Illustrated Edition Exclusive Track)
Music Video (PV)