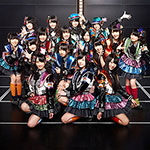 SKE48 Haru Con 2013 ~Kawaranai Koto. Nakama na Koto~ (SKE48 春コン 2013「変わらないこと。仲間なこと」) will be held on April 13-14.
The concert will take place at Nippon Gashi Hall, Nagoya.
SKE48 members Kuwabara Mizuki, Takada Shiori, Hiramatsu Kanako, Akaeda Ririna, Ogiso Shiori, Ueno Kasumi, Hara Minami, Kobayashi Emiri, and Yagami Kumi will have their graduation ceremony during this live.
Schedule
Date : 13/04/2013 – 14/04/2013
Time : –
Venue : Nippon Gaishi Hall, Nagoya