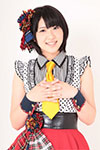 Nakaya Sayaka announced her graduation from AKB48. She will leave the group on March 6.
She explained that she took this decision because she wants to become a seiyuu (voice actress). She has already experience in voice acting as she played the character of Aida Orine in the anime series AKB0048.
Nakaya Sayaka joined AKB48 in 2006 as a 3rd generation member. She is currently part of Team K. She is also a member of No Name.