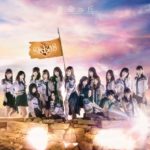 SKE48 released their new album Kakumei no Oka (革命の丘) on February 22.
This is the 2nd album of SKE48. They had not released albums for 5 years.
Check out the MV for the idol group's new song Natsu yo, Isoge!.
You can find the last singles of the idol group from the single Aishite-love-ru! (2012). You can also find the first singles of SKE48 which appeared in their 1st album Kono Hi no Chime wo Wasurenai.
The single Cup no Naka no Komorebi of Love Crescendo (a sub-unit), as well as a cover song of the NMB48 are also featured in this album.
This album is sold in three editions and another special sold to the SKE48's theater.
Each edition contains three CDs and one DVD, containing the clip and additional video.
Tracklist
Type A

CD1

Natsu yo, Isoge! (夏よ、急げ!)
Rifle Girl (ライフルガール) (Love Crescendo)
Zero-Base (ゼロベース)
Horizon (ホライズン) (Aichi Toyota Senbatsu)
Cup no Naka no Komorebi (コップの中の木漏れ日) (Love Crescendo)
Ano Saki no Mirai Made (あの先の未来まで) (Caramel Cats)
Teppen Tottarute! (てっぺんとったるて!) (NMB48 cover)
Seifuku wo Nugitaku Natte Kita (制服を脱ぎたくなって来た)
Hana Uranai (花占い) (Matsui Jurina solo)
Tsuyogari Dokei (強がり時計)

CD2

Kin no Ai, Gin no Ai (金の愛、銀の愛)
Chicken LINE (チキンLINE)
Maenomeri (前のめり)
Coquettish Juutaichuu (コケティッシュ渋滞中)
12 Gatsu no Kangaroo (12月のカンガルー)
Bukiyou Taiyou (不器用太陽)
Mirai to wa? (未来とは?)
Sansei Kawaii! (賛成カワイイ!)
Utsukushii Inazuma (美しい稲妻)
Choco no Dorei (チョコの奴隷)
Kiss Datte Hidarikiki (キスだって左利き)
Aishite-love-ru! (アイシテラブル!)

CD3

Kataomoi Finally (片想いFinally)
Okey-Dokey (オキドキ)
Pareo wa Emerald (パレオはエメラルド)
Banzai Venus (バンザイVenus)
1! 2! 3! 4! Yoroshiku! (1!2!3!4! ヨロシク!)
Gomen ne, SUMMER (ごめんね、SUMMER)
Aozora Kataomoi (青空片想い)
Tsuyoki Mono yo (強き者よ)
Type B

CD1

Natsu yo, Isoge! (夏よ、急げ!)
Rifle Girl (ライフルガール) (Love Crescendo)
Zero-Base (ゼロベース)
Horizon (ホライズン) (Aichi Toyota Senbatsu)
Cup no Naka no Komorebi (コップの中の木漏れ日) (Love Crescendo)
Datte Ame ja nai? (だって雨じゃない?) (Transit Girls)
Teppen Tottarute! (てっぺんとったるて!) (NMB48 cover)
Ai no Tame ni Nani wo Suteru? (愛のために何を捨てる?)
Hana Uranai (花占い) (Matsui Jurina solo)
Sekai ga Naiteru Nara (世界が泣いてるなら)

CD2

Kin no Ai, Gin no Ai (金の愛、銀の愛)
Chicken LINE (チキンLINE)
Maenomeri (前のめり)
Coquettish Juutaichuu (コケティッシュ渋滞中)
12 Gatsu no Kangaroo (12月のカンガルー)
Bukiyou Taiyou (不器用太陽)
Mirai to wa? (未来とは?)
Sansei Kawaii! (賛成カワイイ!)
Utsukushii Inazuma (美しい稲妻)
Choco no Dorei (チョコの奴隷)
Kiss Datte Hidarikiki (キスだって左利き)
Aishite-love-ru! (アイシテラブル!)

CD3

Te wo Tsunaginagara (手をつなぎながら)
Kizashi (兆し)
Kareha no Station (枯葉のステーション)
Cross (クロス)
Theater no Megami (シアターの女神)
Matsumulove! (マツムラブ!)
Akai Pin Heel to Professor (赤いピンヒールとプロフェッサー)
Koi wo Kataru Shijin ni Narenakute (恋を語る詩人になれなくて)
Type C

CD1

Natsu yo, Isoge! (夏よ、急げ!)
Rifle Girl (ライフルガール) (Love Crescendo)
Zero-Base (ゼロベース)
Horizon (ホライズン) (Aichi Toyota Senbatsu)
Cup no Naka no Komorebi (コップの中の木漏れ日) (Love Crescendo)
Aishiteru to ka, Aishiteta to ka (愛してるとか、愛してたとか) (Furumarion)
Teppen Tottarute! (てっぺんとったるて!) (NMB48 cover)
Ima no Watashi ja Dame Nanda (今の私じゃダメなんだ) (Suda Akari solo)
Hana Uranai (花占い) (Matsui Jurina solo)
Gonna Jump

CD2

Kin no Ai, Gin no Ai (金の愛、銀の愛)
Chicken LINE (チキンLINE)
Maenomeri (前のめり)
Coquettish Juutaichuu (コケティッシュ渋滞中)
12 Gatsu no Kangaroo (12月のカンガルー)
Bukiyou Taiyou (不器用太陽)
Mirai to wa? (未来とは?)
Sansei Kawaii! (賛成カワイイ!)
Utsukushii Inazuma (美しい稲妻)
Choco no Dorei (チョコの奴隷)
Kiss Datte Hidarikiki (キスだって左利き)
Aishite-love-ru! (アイシテラブル!)

CD3

Boku wa Shitteiru (僕は知っている)
Bouenkyou no Nai Tenmondai (望遠鏡のない天文台)
Madogiwa LOVER (窓際LOVER)
Yuudachi no Mae (夕立の前)
Koko de Ippatsu (ここで一発)
Me ga Itai Kurai Hareta Sora (目が痛いくらい晴れた空)
Escape
Seifuku wo Kita Meitantei (制服を着た名探偵)
Music Video (PV)