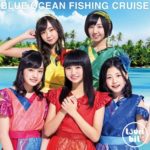 Tsuri Bit will release their 2nd album Blue Ocean Fishing Cruise on April 5.
In this album, you will find the last singles of the band featuring some B-side songs like : Makenai Guts~ Itsuka Sekai wo Tsuri Agemasu~, Tsurisen wa Iraneze, Uroko Gumo to Orion-za and Chu Shitai.
Digital singles like Mousou Fishing Gakuen and My Victory will also be featured in this album.
Check out the MV for the new song Get ready Get a chance below.
In this one, you can see the more grownup side of the Tsuri Bit members, walking with friends in the Shibuya district, in Tokyo, singing at karaoke and going shopping.
The song Get reday Get a chance was performed for the first time during the Tsuri Bit's concert Akasaka Sakana ~Minna de Tsurou Akasaka BLITZ~ at Akasaka BLITZ on February 26.
Tracklist
CD

Blue Ocean Fishing Cruise
Hadashi no Mermaid (裸足のマーメイド)
Nagisa de Latte Art (渚でラテアート)
Mousou Fishing Gakuen (妄想フィッシング学園)
Get ready Get a chance
Chu Shitai (Chuしたい)
Gyo Gyo Gyo Mucho (ギョギョギョムーチョ)
Tsurisen wa Iraneze (釣り銭はいらねぇぜ)
Lemon Kaigan (レモン海岸)
Shiokaze Nikki (潮風日記)
Kamome Pelican Story (カモメペリカンストーリー)
Osakana-yō Candy (おさかな形キャンディー)
Uroko Gumo to Orion-za (ウロコ雲とオリオン座)
Nigashita Sakana wa Ōkiizo (ニガシタサカナハオオキイゾ)
Makenai Guts~ Itsuka Sekai wo Tsuri Agemasu~ (負けないガッツ 〜いつか世界を釣り上げます〜)
My Victory
DVD

My Victory (Music Video)
Get ready Get a chance (Music Video)
Get ready Get a chance (Music Video Making)
Music Video (PV)