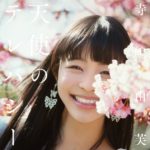 Terashima Yufu unveils her upcoming single Tenshi no Telepathy (天使のテレパシー) to release on March 22.
This is the 6th single of the former member of BiS.
The short versions of the MVs were also unveiled.
The single will be available in 3 versions: one regular, two others A and B.
The song Tenshi no Telepathy, was written by The First Kiss of the 101st Time, and composed by Miyano Genshi. In the music video, Yufu, in a hurry, runs down the street but stumbles constantly, goes to a library or buys a large oranges portion that she drops.
The song Shuuten, Wa · Ta · Shi. was written by and composed Machi Akari. This is an enka song, a traditional Japanese music genre. In the clip, Yufu Terashima is dressed in a lilac-colored furisode kimono and delivers her first performance in the style of Japanesese traditional enka. Terashima moved to Teichiku Entertainment (a label well-known for enka artists) in late 2016. It will appear in the regular edition and edition B.
Another song Midori no Kurokami will appear only in the regular edition and edition A.
The DVDs of the limited edition will contain the clips of the first two songs and their making-of.
Tracklist
Regular Edition

CD

Tenshi no Telepathy (天使のテレパシー)
Shuuten, Wa・Ta・Shi. (終点、ワ・タ・シ。)
Midori no Kurokami (みどりの黒髪)
Tenshi no Telepathy (off vocal)
Shuuten, Wa・Ta・Shi. (off vocal)
Midori no Kurokami (off vocal)
Type A

CD

Tenshi no Telepathy (天使のテレパシー)
Midori no Kurokami (みどりの黒髪)
Tenshi no Telepathy (off vocal)
Midori no Kurakami (off vocal)

DVD

Tenshi no Telepathy (Music Video)
Tenshi no Telepathy (Making picture Part 1)
Type B

CD

Tenshi no Telepathy (天使のテレパシー)
Shuuten, Wa・Ta・Shi. (終点、ワ・タ・シ。)
Tenshi no Telepathy (off vocal)
Shuuten, Wa・Ta・Shi. (off vocal)

DVD

Shuuten, Wa・Ta・Shi. (Music Video)
Tenshi no Telepathy (Making picture Part 2)
Music Video (PV)