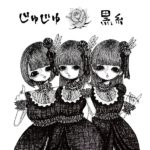 The new single of Jyujyu entitled Kuro Ito (黒糸) will be released on March 14.
This is the 5th single of the gloomy idol group Jyujyu.
In the video clip that you can see below, the girls are in a room of what appears to be an antique mansion, Jyujyu spin and sway under flickering lights, their glance upon enchanted mirrors and portraits, while their hypnotic vocals become entwined with the gloomy instrumentation.
The single is available in a single edition, containing the main song, its remixed version and a B-side song Urami Geashi. You can listen to the songs on the group's Soundcloud.
Jyuyu will be holding their 1st one-man live on March 19 at Shibuya Eggman, as a 3-member unit after the the departure of Shirai in March 2016 and the arrival of Miori and Minoru in July 2016.
Tracklist
Kuro Ito (黒糸)
Urami Gaeshi (怨返し)
Kuro Ito (DJ Remix)
Music Video (PV)