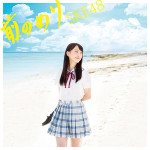 SKE48's 18 single Maenomeri (前のめり) will be on sale on August 12.
Matsui Rena is in center position because this is her last single before her graduation.
The covers and a special edit version of the MV have been revealed.
Furthermore, SKE48 are going to participate in Tokyo Idol Festival 2015 on August 1-2.
Tracklist
Type A

CD

Maenomeri (前のめり)
Suteki na Zaiakukan (素敵な罪悪感) (Team S)
Seifuku wo Kita Meitantei (制服を着た名探偵 (Dreaming Girls / ドリーミング ガールズ)
Maenomeri (off vocal)
Suteki na Zaiakukan (off vocal)
Seifuku wo Kita Meitantei (off vocal)

DVD

Maenomeri (Music Video)
Suteki na Zaiakukan (Music Video)
Shinsedai no Yakudou ~Documentary of SKE48 7th Generation Kenkyuusei~ (新世代の躍動~Documentary of SKE48 7期研究生~)
Type B

CD

Maenomeri
Shousou ga Kono Boku wo Dame ni Suru (焦燥がこの僕をだめにする) (Team KII)
Seifuku wo Kita Meitantei
Maenomeri (off vocal)
Shousou ga Kono Boku wo Dame ni Suru (off vocal)
Seifuku wo Kita Meitantei (off vocal)

DVD

Maenomeri (Music Video)
Shousou ga Kono Boku wo Dame ni Suru (Music Video)
Mirai he no Joshou ~Documentary of SKE48 Draft 2nd Generation~ (未来への序章~Documentary of SKE48 ドラフト2期生~)
Type C

CD

Maenomeri
Nagai Yume no Labyrinth (長い夢のラビリンス) (Team E)
Seifuku wo Kita Meitantei
Maenomeri (off vocal)
Nagai Yume no Labyrinth (off vocal)
Seifuku wo Kita Meitantei (off vocal)

DVD

Maenomeri (Music Video)
Nagai Yume no Labyrinth (Music Video)
2588 Days ~Documentary of Matsui Rena~ Part 1 (2588日。Documentary of 松井玲奈 前編)
Type D

CD

Maenomeri
2588 Nichi (2588日) (Matsui Rena / 松井玲奈)
Seifuku wo Kita Meitantei
Maenomeri (off vocal)
2588 Nichi (off vocal)
Seifuku wo Kita Meitantei (off vocal)

DVD

Maenomeri (Music Video)
2588 Nichi (Music Video)
2588 Days ~Documentary of Matsui Rena~ Part 2 (2588日。Documentary of 松井玲奈 後編)
Theater ver.

CD

Maenomeri
Seifuku wo Kita Meitantei
SKE48 18th Single Medley
Maenomeri (off vocal)
Seifuku wo Kita Meitantei (off vocal)
Music Video (PV)